This is a forum for anyone interested in the tiny world revealed by the microscope. We welcome anyone from beginners to professionals, insofar as you do this for the love of the subject. Our aim is to encourage people to engage in direct observation of the microscopic world, using whatever tools to do that which suit their budget, their skills, and the room they have to do it in. Our focus is primarily with WHAT you see under the microscope, and only secondarily the instrument itself. We would also like to see our members join or form local amateur microscopy clubs wherever they happen to live, in order to develop personal relationships with others having the same interest and hobby. Our one inflexible rule on this forum is CIVILITY, by which we mean that we expect all posts to be respectful of others, and not abusive. Disagreement is expected and encouraged, but it can and must be done in a non-abusive and non-insulting manner. Flaming, advertising, and recruiting for political or religious causes are forbidden. And please read the forum guidelines in the Files section. Our second rule is to try to stick to the point – that point being microscopy. Our third rule is: HAVE FUN!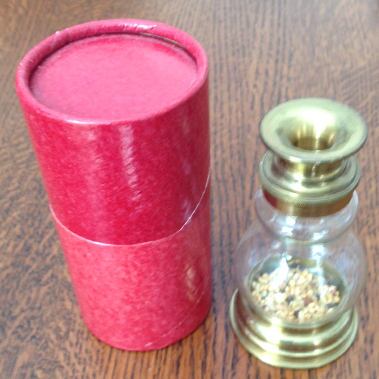 This is a flea-glass magnifier that is representative of the styles of of the late 1800.
According to the information provided with the instrument it was hand made by Van Cort Instruments in New England. The copyright on the included document is 1990, but I don't know how that may relate to the date of manufacture. There is a fairly heavy brass base and lens and the jar is of blown glass. The magnification of the lens is 3X and the image is what I would expect from such a device.
Linked Website:

n/a

Future home:

Archive on groups.rifeforum.com

On Rife Forum:

Microscopes

On groups.io:

n/a
Microscopes




11, 2008

English

Members : 758

Messages: 20,045
Attachments: Yes

Files: Yes

- 119 MB - Excellent File area

Photos: Yes

- 3.58 GB - MASSIVE IMAGE ARCHIVES

- Therefore $9.99

Links: Yes*

- Large list of Links
The group has been archived in PG4 Format that can be read with the PG Offline Software.
In order to view these archives, the free trial version of the software is sufficient.
Note: Due to a large number of files and photos, the download file is about 3.38 GB in size and will take some time to download and install.
Digital Download - Link will be sent to you after your order has been confirmed.
The link is valid for 60 days.
Compatibility:
Windows 7, 8, 8.1, 10
Digital Download
Link valid for 60 days.